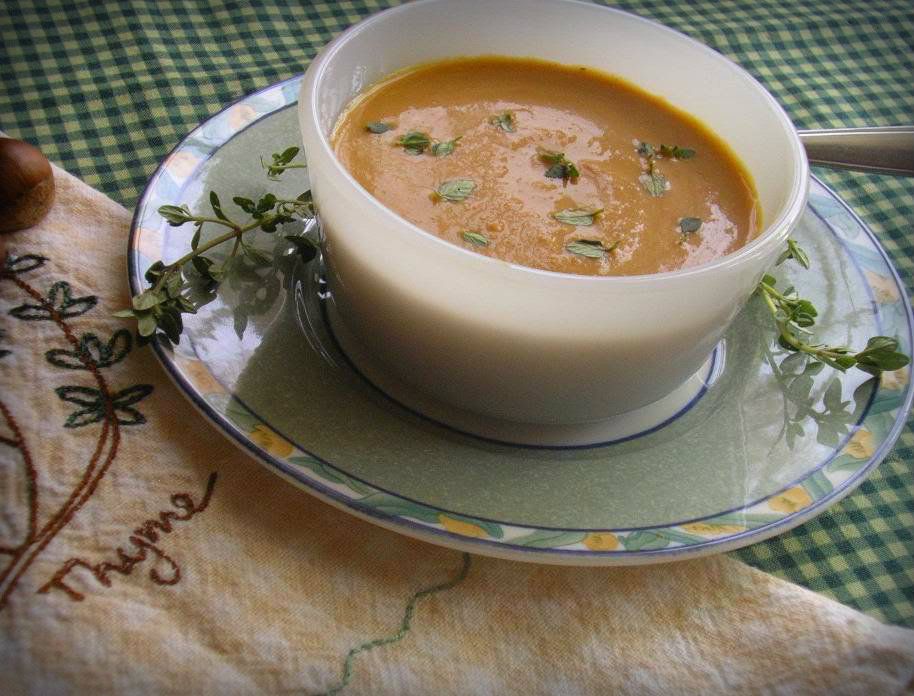 I never imagined that I'd be making soup
from
nuts -- I always thought of nuts as an additive, a very nice additive, but not the main part of anything, except for
snacking
. (And maybe my favorite
pistachio ice cream.
) But I've learned that chestnut soup is a very traditional fall soup, and a staple at many a Thanksgiving table.
It's a great soup. It's rich, smooth and creamy, without cream. It gets its richness straight from the sweet chestnuts, which, I also learned is low in calories and has
all kinds of other good things
going for them, like they're the only nut that has Vitamin C. And they're gluten-free.
The only bad thing I can say about this recipe is that roasting and peeling the nuts is a bit of a chore. But it's worth the effort and certainly can be done ahead of time.
We're lucky to have a neighbor who gave us a couple chestnut tree saplings that finally bore fruit last year. This was not a good year for our own trees but our neighbor still shared some of his.
The original recipe called for bottled chestnuts, which I've never even looked for in a store. But at this time of year, chestnuts show up in many produce departments.
I first posted this recipe about a year ago when I guest posted at
Eat Yourself Skinny.
And I realized I never posted it here. So here you go . . . .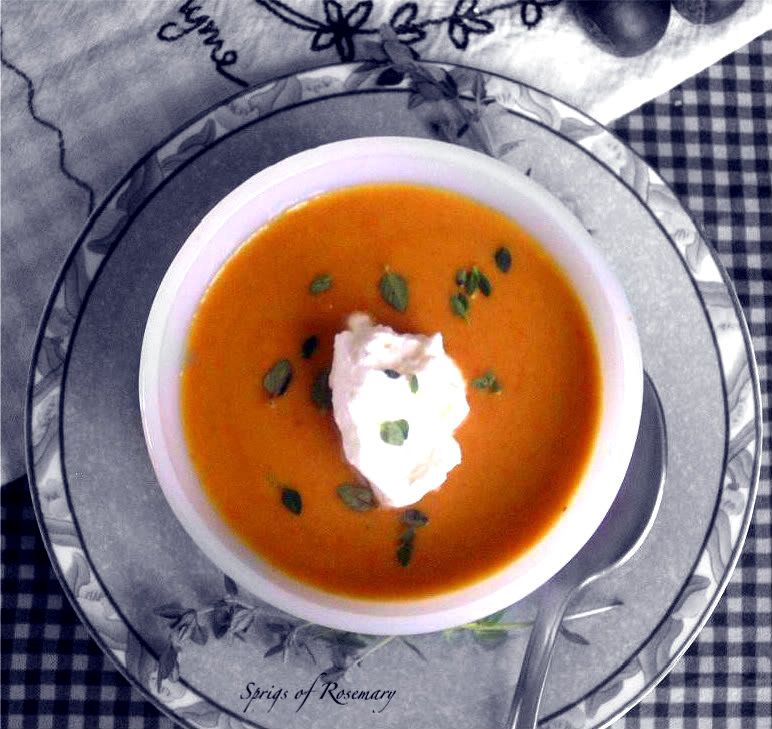 Roasted Chestnut Soup with Thyme Cream
adapted from Cooking Light
makes 10 servings
3 cups whole roasted (or bottled) chestnuts
2 cups chopped yellow onion
3/4 cup thinly sliced carrot
1 Tbsp olive oil
6 cups fat-free, lower-sodium chicken broth
5/8 tsp. kosher salt, divided
1/4 tsp. freshly ground black pepper
2 tablespoons sherry (optional)
1/3 cup heavy whipping cream
1 1/2 tsp. chopped fresh thyme leaves
Preheat oven to 400 degrees F.
Prepare the chestnuts. Cut an X in the bottom of each chestnut. Place chestnuts on a jelly-roll pan and bake for 15 minutes. Place chestnuts in large bowl and cool to room temperature. When cool enough to handle, peel the shells from the chestnuts. (If you can find bottled or vacuum packed chestnuts, no need for this step!)
Prepare the puree. Combine onion, carrot and oil on same jelly-roll pain. Toss to coat the vegetables. Bake for 1/2 hour or until tender, stirring occasionally. Add the chestnuts in bowl and stir in broth. Pour half the mixture into a blender and blend until smooth. Pour the pureed mixture into a large pot. Repeat procedure with remaining broth mixture. Or, if you're lucky enough to have an immersion blender, put everything into the large pot and puree it all at once in the pot. Stir in the 1/2 teaspoon salt and pepper. Place pot over medium high heat and bring to a simmer, then reduce heat and simmer 20 minutes. Add the sherry, if you like.
Prepare the whipped cream. Place cream in medium bowl and beat with a hand mixer at high speed until soft peaks form. Add remaining 1/8 teaspoon salt and beat at high speed until stiff peaks form.
Serve. Ladle soup into bowls and top serving with about a teaspoon of whipped cream. Sprinkle with thyme and serve.