A

lthough promotional cookbooks still exist

,
none can compare in quality and class to those produced by the masters: Benson & Hedges. Their marketing people were geniuses. They managed to commandeer the cooking prowess of the likes of James Beard to partner with them in creating honestly great cookbooks!
For those non-smokers (or youngsters!), Benson & Hedges is a brand of cigarette originally produced in Great Britain. When Philip Morris bought the brand in the 1960's and extended the length of the cigarette to 100 millimeters and put their marketing machine to work, a bold marketing campaign was unleashed and we benefited from these cookbooks!
The cookbook I got this cauliflower recipe from, "Recipes from Great American Country Inns," was part of a pile of cookbooks my sister gave me. Another cookbook collector, my sister was dividing her spoils with me after a friend of hers (another addict, to be sure) cleaned house.
I picked this recipe because the page was dog-eared. I figured someone else must have liked it. While it was
good
, it wasn't a bell-ringer, just a nice mild accompaniment to a spicy dish.I would like to try the Peanut Soup from the
Wayside Inn,
in Middletown, Virginia. Or maybe the Braised Lamb Shanks, from
The Golden Lamb
in Lebanon, Ohio.
So how does my version compare with the pro's?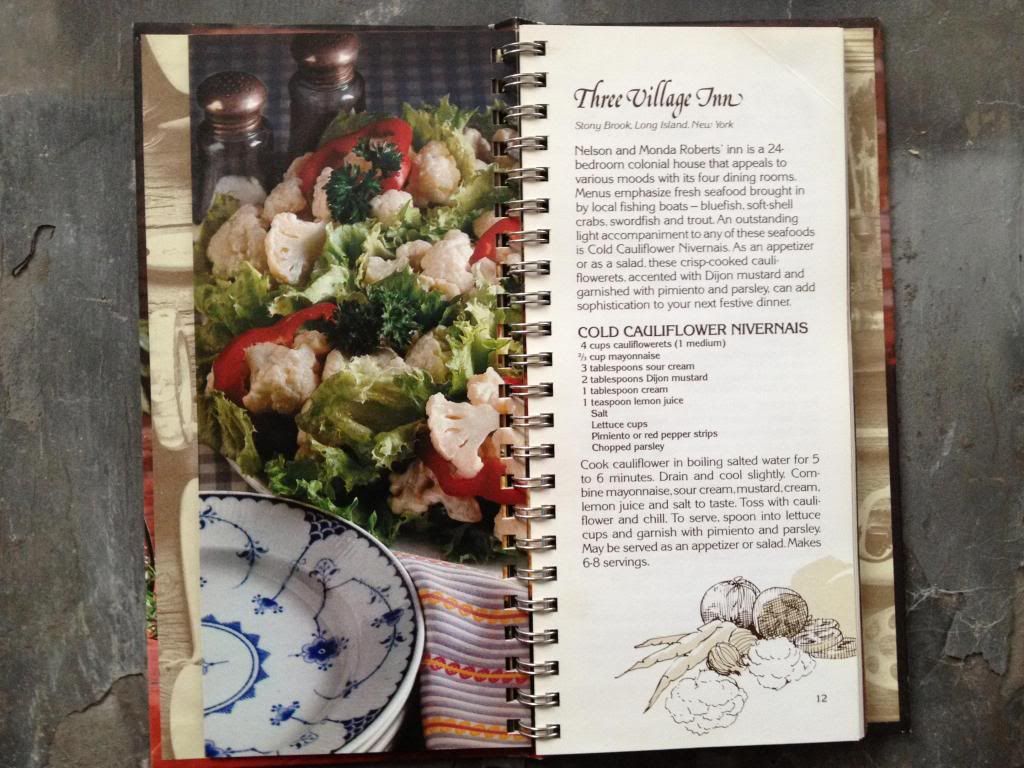 By the way, "Nivernais," for the French-challenged like myself (despite four years of study) is a former province of France. I'm not sure what makes it "Nivernais" or even French. Is it the mustard? The cream? I know I have difficulty trying to name something I've created. A geographic appellation is often used but I can't imagine naming anything I've created "a la Fisher," my little village!
Cold Cauliflower Salad Nivernais
from Three Village Inn, Long Island, New York
via Benson & Hedges "Recipes from Great American Country Inns"
Makes 6 servings
4 cups cauliflowerets (1 medium head)
2/3 cup mayonnaise
3 tablespoons sour cream
2 tablespoons Dijon-style mustard
1 tablespoon cream
1 teaspoon lemon juice
1/2 teaspoon salt
Lettuce -- your choice
Pimiento or red pepper strip and chopped parsley for garnish
Cook the cauliflower in boiling salted water for 5 to 6 minutes. Drain and cool slightly.
Combine the mayonnaise, sour cream, mustard, cream , lemon juice and salt. Toss with cauliflower and chill.
To serve, toss with torn lettuce leaves and garnish with the pepper and parsley.